Team Cook
In April of 1994, Dan & I were married and #TeamCook was established. We had three daughters, Lindsey, Brittney and Cailin. Our life was like many young families, consumed with dance classes, girl scouts and sports.  We loved being an all girl family and Dan adored his girls. 
We faced many challenges over the years but faith has always been the foundation of our family. Facing life's challenges can weaken a family or make it stronger. For us, each challenge we faced individually or as a family, we chose to face it together.  Dan started referring to us as "Team Cook" when the girls were young.  We had no idea at the time, but the nickname "Team Cook" would represent more than just a cute name.  
Laughter has been an integral part of our home.  Many times, it was the silliness of Dan that had our family crying tears from laughing so hard.  Laughter has always been the cornerstone of our family, even finding humor in the most mundane of circumstances.  
In November of 2021, Dan passed away unexpectedly. Lindsey, Brittney, Cailin, Clayton (Lindsey's fiancé) and myself were by his side as he took his last breath.  Throughout his time in the hospital, we leaned into our faith and the support of our friends, family and community.  The pain of his loss has been devastating. In our own ways, each of us has tried to make sense of losing him. Dan was a big personality and was loved by so many people. He was the life of the party, and made each day fun. 
Dan has been gone now for about a year and we want to make him proud.  He was our biggest supporter, cheerleader, and always had big dreams.  Although he is not here with us, we still have a lot to accomplish. It is in his memory and for him, that we make him proud. He loved when I would bake and he had many favorite things but my cookies topped the list of his favorites.  He always told me I needed to do something with my baked goods but the time just never seemed right...until now.  
We love and miss Dan everyday.  The girls and I had a choice to make when we lost him: We could let the grief smother us or we could lean into it and try to create something together;  in his honor.  We chose option B!  When Dan was in the hospital the hashtag #TeamCook was used over and over again in social media posts. Our family is a team who lost their captain but we are moving forward together.
Thank you for taking the time to get to know my family. I hope that our cookies bring you joy! Sometimes when life is hard, nothing is better than a little "Something Sweet". 
Hugs, 
Kim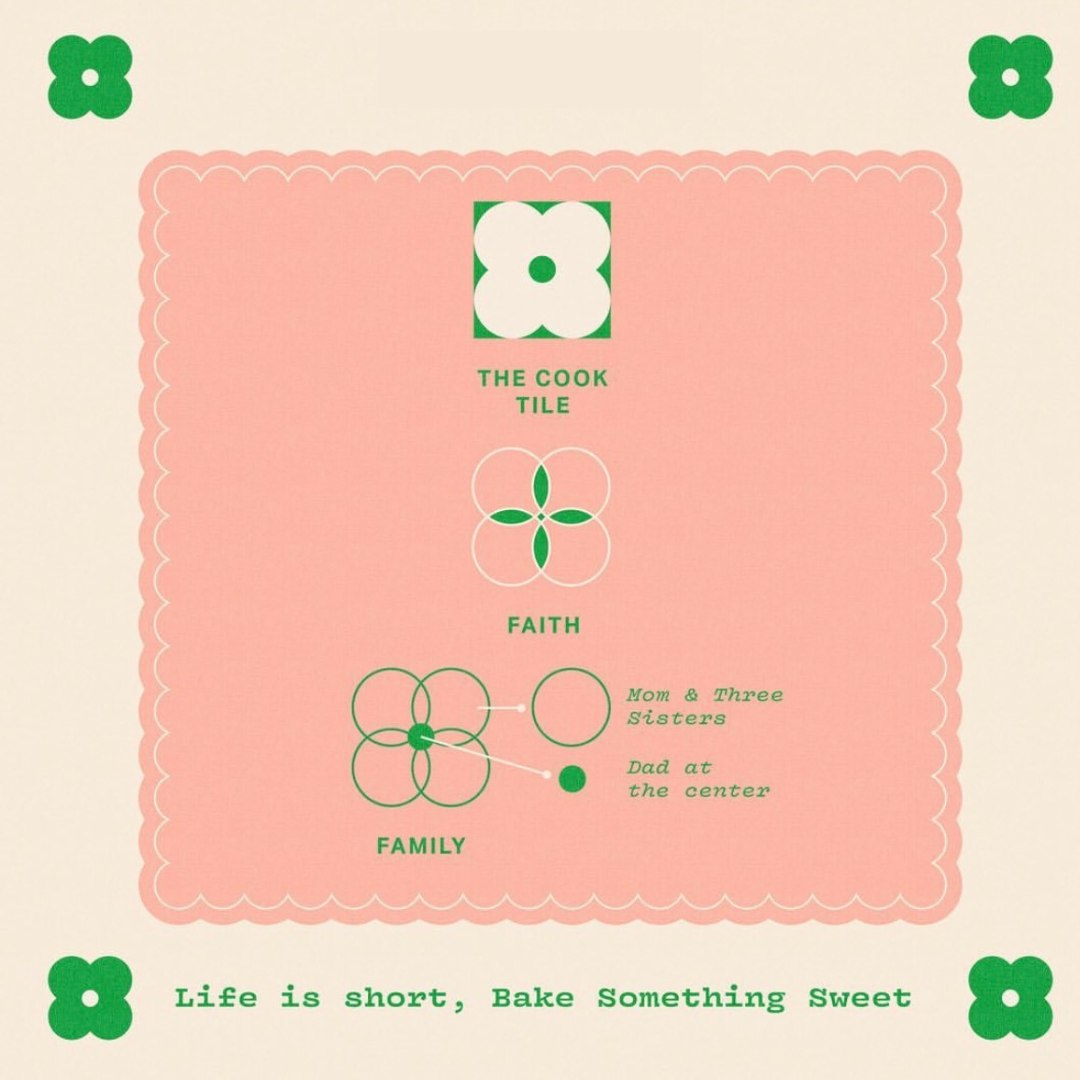 The Cook Tile
You may notice this flower pattern used throughout our website and products. Every detail that we have incorporated has been very intentional and meaningful. This tile is representative of our family. The middle represents our Dad as it is important to us that we honor him and keep his memory alive. The four circles represent our mom and sisters. When the circles overlap, it creates a cross. We have leaned into faith as it has kept us going through the hardest of times.   
Our Core Values:
Quality: We are committed to using only the highest-quality ingredients to ensure that our dough creates delicious, homemade-style cookies that our customers can enjoy.
Convenience: We believe that everyone deserves to enjoy freshly baked cookies without the hassle, which is why we strive to make our products convenient and easy to use.
Community: We value the power of baked goods to bring people together, and we seek to build a community of bakers and cookie lovers who share our passion for homemade treats.
Faith: Our company is guided by our faith, and we strive to operate with compassion, kindness, and a spirit of service in all our interactions.
Legacy: We're proud to carry on our dad/husband's legacy by pursuing our dreams and bringing his favorite homemade treat to families everywhere. We're committed to making him proud by upholding his values of hard work, determination, and a love of good food.